Welcome to our Dumpster Size Options and Selection Service at RDR Property Maintenance and Dumpster Rental!
Here at RDR, we understand that no two projects are the same, and that's why we offer a diverse range of dumpster sizes to cater to your specific needs.
Our goal is to make your waste management experience as convenient and efficient as possible. 📦💡
Having different options for dumpster sizes is essential for a variety of reasons.
First and foremost, it allows you to select a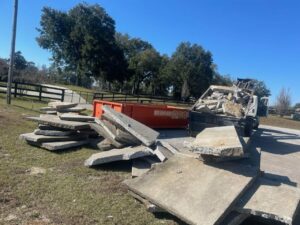 In addition to flexibility and cost savings, having multiple size options provides you with the adaptability you need.
Projects can evolve over time, and waste volumes may fluctuate unexpectedly.
By offering a variety of sizes, we empower you to adjust to changing circumstances without any hassle.
You'll have the peace of mind knowing that you have the necessary space to accommodate any waste generated during your project.
Our friendly team of experts at RDR Property Maintenance and Dumpster Rental is always ready to assist you in choosing the perfect result from our dumpster size options. 
We take the time to understand the unique requirements of your project and provide personalized recommendations.
Our goal is to ensure that you have a seamless and stress-free experience from start to finish. 
Give us a call at (352) 843-7280, and our knowledgeable team will be delighted to guide you through the selection process of your first Ocala dumpster rental.
At RDR, we pride ourselves on delivering exceptional customer service and top-quality dumpster rentals.
We believe in going the extra mile to meet your specific needs. 
Whether you're a homeowner, contractor, or business owner, we have the right dumpster size for you.
Don't let waste management become a headache. Trust RDR Property Maintenance and Dumpster Rental to provide you with the ideal dumpster size that fits your project requirements like a glove. 
We're committed to making your cleanup process easy, affordable, and tailored to your needs.
Contact us today to discuss your project and explore our extensive range of dumpster size options. Let's work together to find the perfect solution for you!
Return Home.
| Dumpster | Price | Rental Time | Included Tonnage | Additional Days | Extra Weight |
| --- | --- | --- | --- | --- | --- |
| 10 Yard Dumpster | $325.00 | L x W x H | Up to 14 Days | 1 Tons | $15/day |
| 15 Yard Dumpster | $385.00 | L x W x H | Up to 14 Days | 1.5 Tons | $15/day |
| 20 Yard Dumpster | $450.00 | L x W x H | Up to 14 Days | 2 Tons | $15/day |
| 30 Yard Dumpster | $550.00 | L x W x H | Up to 14 Days | 3 Tons | $15/day |
| 40 Yard Dumpster | $650.00 | L x W x H | Up to 14 Days | 4 Tons | $15/day |