Welcome to our Residential Dumpster Rental Service in Ocala, Florida and Marion County, Florida!
As a homeowner in Ocala, managing waste and debris from various projects can be a challenging task. That's where RDR Property Maintenance and Dumpster Rental comes in.
We understand the unique needs of homeowners in this area, and we offer a wide range of residential dumpster sizes to cater specifically to your requirements.
Residential dumpster rental is an incredibly important service for homeowners in Ocala, and all of Marion County, Florida.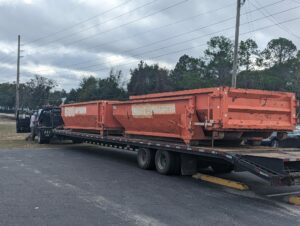 It offers a convenient and efficient solution to manage waste and debris generated during various residential projects.
Whether you're undergoing a home renovation, decluttering your living space, or working on landscaping improvements, having a dedicated dumpster on your property simplifies the waste removal process and eliminates the need for frequent trips to the local dump.
By renting a residential dumpster, you can maintain a clean and organized living environment, enhance safety on your property, and save valuable time and energy.
It allows you to dispose of large or bulky items, construction debris, and general household waste in a responsible and eco-friendly manner.
Additionally, residential dumpster rental provides the flexibility to choose the appropriate size that matches the scale of your project, ensuring you have enough space to accommodate all your waste without any constraints.
Choosing the right dumpster size for your residential project in Ocala is crucial.
Whether you're remodeling your kitchen, cleaning out your garage, undertaking a landscaping project, or making improvements to your home, having a properly sized dumpster ensures that you have ample space to dispose of all the waste, making your cleanup process efficient and hassle-free.
Our residential dumpster rentals provide you with the convenience of having a dedicated container right on your property in Ocala or Marion County.
No more piling up garbage bags or making countless trips to the local dump. With our reliable and prompt service, you can focus on your project while we take care of the waste removal.
At RDR Property Maintenance and Dumpster Rental, we prioritize your satisfaction. Our friendly and knowledgeable team is here to assist you in selecting the perfect dumpster size that matches the scale of your residential project in Ocala .
We take the time to understand your unique requirements and provide personalized recommendations, ensuring that you have the right dumpster for the job.
Don't let waste management stress you out in Ocala, or Marion County, Florida. Trust RDR Property Maintenance and Dumpster Rental to provide you with top-quality residential dumpster rentals that make your cleanup process a breeze. Contact us today at (352) 843-7280 to discuss your project and book your residential dumpster.
Let's make your waste removal experience in Marion County easy, convenient, and tailored just for you!